Online Business Cyber Hygiene Maturity Model
Start, grow, and optimize your cybersecurity journey with a comprehensive roadmap of prioritized action plans and offensive, defensive, and infosec solutions tailored to the specific needs of SaaS models and online businesses.
Nordic Defender's Cyber Hygiene Maturity Model
Cyber hygiene is a new approach that emphasizes on strengthening cybersecurity resilience by implementing and adhering to effective security practices. We've developed this method to form actionable roadmaps encompassing Offensive, Defensive, and Information Security Solutions. This comprehensive model combines best practices from:
Bringing a holistic security culture as a service offered through a single pane of glass with solutions that are:
Crowd powered,
Fully managed, and
Centrally delivered.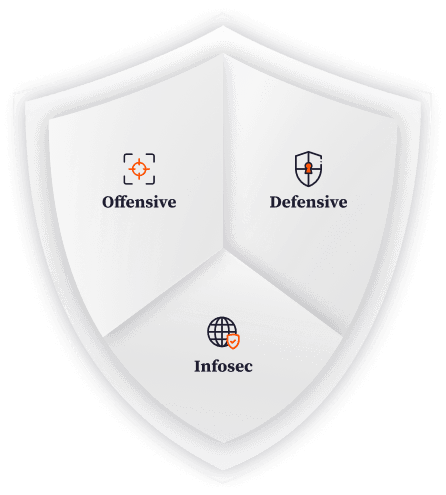 Why is it tailor-made for SaaS & Online Businesses?
Fully-Managed Approach
Have complex solutions implemented into your IT infrastructure without even lifting a finger!
Centralized Platform
Obviate multiple vendors and replace siloed initiatives and fragmented results with consolidated, astute security intell.
Cost-Effective Initiatives
Exploit enterprise-class initiatives within the financial reach of SMEs, SaaS models, and online businesses.
Easy-to-Understand Steps
Declutter your security plate and know where you are and where you're headed at any point in time.
Cyber Hygiene Maturity Model Tiers
The Cyber Hygiene Maturity Model has three distinct classifications, each with its own set of benefits, products, services, and requirements.
Reactive Cyber Hygiene
Identify applicable regulations and standards.

Conduct regular assessments to detect security gaps.

Implement a security awareness program and track participant performance.
Reactive Cyber Hygiene Maturity Model
End Point Detection & Response
Security Awareness Level 1
Secure Your Future with Cyber Hygiene Maturity Model
This new approach provides a clear path to progressive cybersecurity excellence. With the Cyber Hygiene Maturity Model, your organization is equipped with the necessary solutions and guidance to safeguard your digital assets and maintain business resilience, from establishing a strong foundation to optimizing your defenses and proactively tackling emerging threats.